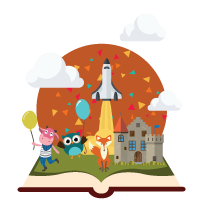 Children's Illustrated Book Design
Do you remember the first time you immersed yourself into a book? You were probably just a young child exploring worlds of green eggs and ham, saying goodnight to red balloons and the moon, and rooting on that little engine that could. For most of us, we began our wonderful fiction adventures as a child with our parents at bedtime. We can help you become part of those special memories by designing your own children's book.
Our children's illustrated book design service
Bring the text and illustrations of your children's book alive on the page. With our children's illustrated book design service, we will create a children's book that will inspire and entertain. Picture books, primers, chapter books and more, we will work with you and your illustrator to create a book to delight.
Cost: $250 / add fixed-layout eBook for $150
50% deposit to get started: $125
Additional costs may apply if your book has more than the allotted number of included elements. See the "View more details" information above.
Children's book design samples
Have a question?
Contact us using the form below or give us a call at 770-642-6400. We will reply within one business day.