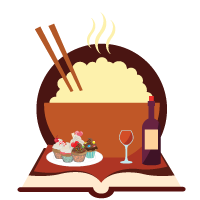 Cookbook Design
Let's cook up a book together! With our cookbook formatting service, we will design a cookbook full of your recipes that anyone will be proud to have in their kitchen. Our designer will combine all elements: ingredient lists, photos, instructions, and a dash of inspiration to create the final product, your very own cookbook!
Our cookbook formatting service
Our cookbook designs are sure to make your mouth water. Take a look at our samples to see what we can do, then submit your order to have your cookbook designed by us. Whether you are a well-known chef, or simply gathering your family recipes, we will bring your cookbook to life!
Cost: $675 / add eBook for $295
50% deposit to get started: $337.50
Additional costs may apply if your book has more than the allotted number of included elements. See the "View more details" information above.
Need More Than an Interior Design?
Our self-publishing package comes with a custom interior, cover, eBook conversion, and submission assistance.
Upgrade your package with consulting, book marketing coaching, and a book marketing kit.
Create Your Self-Publishing Package
Have a question?
Contact us using the form below or give us a call at 770-642-6400. We will reply to your message shortly.