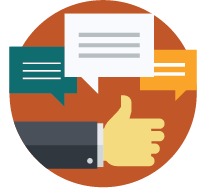 Client Testimonials
Our clients love us. Really! Read the testimonials from some of our clients below to see what they have to say about their experience with us. Ready to have us help you bring your book to life? Contact us today!
This is my second time using Jera Publishing to set up the interior of a book for me and the second time I have had the privilege of working with Jason Orr. From a customer point of view, he is a top-notch contact for ensuring a satisfied user of your services.
As a retired manager of technicians that dealt with the public, I know the impact that a positive experience can have on your business. I wanted you to know that Jason exhibited a professional approach to answering every question I asked, saving valuable time by doing so with a succinct, easily understood answer with no horsing around.
I don't often do this, but his service was such that I had to tell you about his extraordinary ability to communicate and fill me with comfort in the knowledge that he was a professional, and his work would serve me well.
I will recommend Jera Publishing to every writer I know at every chance I get.
Dale A. Swanson
My first-time self-publishing a children's picture book and Jera was absolutely great to work with. They were very patient with my novice questions, quick, and produced high-quality products. Really like the package deal with no hidden extra costs as well. Highly recommended. Will be back for sure.
Brad Mulley
Highly recommend Jera Publishing! They did an outstanding job on my technical non-fiction book. Other books that I have published I used the professional services of Createspace and was not happy with the results. Jera provides their service at a reasonable cost and you actually get to speak to someone. Jera Publishing was very responsive to any concerns I had and provided excellent suggestions for my book. Will certainly hire again for any future needs.
Peter Thomann
Jera Publishing did an amazing job formatting my book. They went above and beyond the call of duty, even catching some errors along the way. I was impressed with their quick turn-around, professionalism and the amount of services I received for the price. I'll definitely use them for the next book.
Tim Rymel
Just a quick note to let you know that, once again, working with Jason on my novel Baby Please Don't Go was a genuine pleasure. He's talented, experienced, personable, fast, and exceedingly responsive. As you are well aware, there are book publication packages available from hundreds of other firms, and many cheaper, but none better than Jera. So thanks.
Frank F.
The service that Kimberly and her team have provided to me has been simply outstanding. They have guided me through a minefield with expert advice at every turn. I am recommend them to other authors left, right and centre with good reason. Jera as a company, are as good as it gets. Thank you Kimberly for the clarity, focus, and personal attention from you and everyone at Jera. For others reading this, if you are considering using Kimberly and Jera's services – just do it!
Sophie Bennett
Jera Publishing was instrumental in navigating the maze of self publishing my first novel, Shadow of Life. Kim and her team (Brooke, Stephanie, Jason and Amanda) were professional and knowledgeable providing me with editing, formatting and book cover design services.The staff made the publishing process manageable turning my dream into a reality.
G.A. Stratton
Once I decided to self-publish my novel, I didn't know what to do next. There is so much information available but much of it is confusing and conflicting. I had to make decisions such as formatting, which printing company to use, inside design, cover design, and on and on. I was overwhelmed but then I discovered Kimberly Martin's classes. After only one session, I knew that Jera Publishing was the resource I needed. Kimberly carefully and professionally guided me through the many steps that lead to a finished product. I am grateful to Kim and her excellent staff.
Sue Horner
I'm VERY satisfied with all you folks have done. Jason did a great job. Everybody I've ever worked with at Jera have been excellent. Good, talented people with great customer service. Thank you so much.
Bill Allen
I sincerely thank you and your staff for all of your help. Without you this project would have still been sitting. I appreciate your time, patience, and hard work. Thanks for making my dream a reality!
Chenelle Marshal
I was first drawn to Jera's basic ebook service for its extremely affordable rates (a few hundred dollars less than other conversion services). When I heard that the turnaround time was 5-7 business days, it all sounded too good to be true. Every other ebook maker expected at least 2-3 weeks to get the job done at a much higher price. I somewhat doubted the quality of work would be stellar, but I went out on a limb and bought the service. That was the best decision I could have made. Not only did Jera Publishing deliver a quality ebook in multiple formats with step-by-step details on how to upload them to websites, but they also delivered it in two days. TWO DAYS. Jera made my cramped publishing schedule so much better, and I've been absolutely blown away with how great the support staff are. 100% recommend that every author use Jera Publishing and I'll definitely be coming back to them for my next project. Jera's basic ebook service deserves a strong 10/10.
Walucia Gand
Over the past five years Jera Publishing has conducted both layout and cover design for eight of our books, two of which have won USA Book News awards. They provide excellent interaction towards creating first class products both inside and out. We had a large autobiography that included over 70 photographs plus cutlines and Jera came through with flying colors. They are always prompt, courteous and a great team with which to work preparing books and ebooks ready for publication. Safe to say they will be handling my next book.
Robert Egby
Jera Publishing, headed by Kimberly Martin, has assisted me with my latest works, Cowboy and The Atonement of Sasha. They were superb, the formatting flawless and meticulous and the graphics simply beautiful. I was equally impressed with their layout of the chapters, so professionally and uniquely designed. Jera is an excellent firm and goes the extra mile in providing guidance and ideas. Should someone be considering a book for print, or some similar document, I highly recommend that they confer with Kimberly and her staff.
Joseph Morris
I would not work with anyone else. Kimberly at Jera Publishing is an absolute pleasure to work with, from the gorgeous interiors she designs to delivering a quick turnaround, she makes the nerve-wracking production part of self-publishing much less stressful. I know my novels are in good hands with Jera Publishing.
Karen Wojcik Berner
To me, Kimberly Martin is the book formatting wizard. She formatted my first print book that I could not have self-published with out her. She politely answered all my dumb questions and even allowed me to make some changes along the way at no extra cost. So, naturally, when I decided to have the book done in an ebook format, I called on Kimberly, and again, great results. Look no further, it's Kimberly!
R.A. Perill
I am so glad to have found Kimberly! Her professionalism, promptness and attention to detail made it possible to publish a work I can be proud of.
Michelle S. Moore
Kimberly Martin is a top-notch book formatter. Not only did she provide me with a print ready document ahead of schedule, she even caught a few typographical errors that were missed by my proofreader. Kim also promptly responded to my emails and she helped my select the right font for my book. I highly recommend her services to anyone who is looking to self-publish their book!
John Hinds
My name is Dwayne Murray, Sr. author of The Mouse That Roared and Whatever It Takes and I would like to let all authors know that Jera Publishing formatted my newest novel Whatever It Takes and they did an outstanding job. They were friendly, reliable and finished my job two days ahead of schedule. A big shout out goes to my girl Kimberly who handled my book with grace and style. I will from this point on use no other company but Jera Publishing and I will tell every author that I know to use them also. Kimberly, super job and you made my writing life so much easier.
Dwayne Murray
I published fourteen books in the traditional manner. Then I found Kimberly Martin and Jera Publishing. Kimberly knows more about every aspect of publishing than any person I have ever dealt with in New York City. My experience with her company has been outstanding in every respect. Frankly, I don't know how she masters so many arcane editing, formatting, publishing, and marketing details. If you are thinking of publishing your book independently, you will find no better person and no better company. I would recommend her company and her services without reservation.
Robert Coram
Jera Publishing did a very professional job, holding my hand throughout the entire publishing process. I could not be more pleased.
Pat DiGeorge
I get so many compliments on my books interior!  I think when people see self-publishing they don't have high expectations.  However, when they see my book and open it they immediately tell me how impressed they are. Thank you, Stephanie and the Jera team so much!
Stephanie LeBeauf
Kimberly and her staff made publishing my book and setting up my website an easy task. I plan on using Jera Publishing again. They are terrific!" –
Jim Shaulis
I'd like to thank you for the wonderful job you did regarding the Amazing Lembo book. The experience was fantastic – creative, inspirational, and professional. In fact magical!!! I want to extend my sincere appreciation regarding your talented approach, commitment to quality, and excellent customer service. The book looks great!
Michael Richman
I would like to take a moment of my time to formally recommend Jera Publishing. Being an Independent Publisher, I have had to shoulder all of the responsibilities and processes of publishing. This was daunting. Writing my novel was quite enjoyable but the rest; editing, formatting and finding distributors, etc., is where I began to feel insurmountable stress. I had the displeasure of meeting professionals who were not what they professed to be. I wasted or donated as I chose to see it now, thousands of dollars for work that was unusable.
Frustrated and in dire need of a formatting company, I searched the internet; specifically I sought out feedback from other authors. This search led me to Jera Publishing. First, I spent time on their web-site. It is user-friendly and I was pleased to see that it answered my questions. Second, and most importantly, there was a phone number and when I called it, the owner answered! Instantly, I liked this company. They satisfied my questions and kept to their projected finish date. Their prices are another blessing, and when I saw the final product, I was more than pleased!
In the subsequent weeks, they even checked in with me via e-mail to make certain that all of my needs had been met. Now, I have revisions with a tight deadline and again, they answered the phone and have quickly made my changes.
In today's quick-paced life, it is rare to find a company that takes the time to care for not only their customers but for the quality of their work. I am pleased to report that I have found such a company and I highly recommend them. I advocate their services enough that I intend to include them on my web-site as a resource to other writers.
S.M. Huggins
Being a return customer is the best display of my satisfaction! Jason, Stephanie and everyone I've worked with at Jera are professional, timely, and talented!
Wayne Smith
Jera Publishing was crucial in making my self-published book a resounding success! They were immensely patient with me through numerous rewrites, updates and edits. I could not have been happier with their service and I will use them again.
Sam Geppi
Kimberly Martin's work is amazing! There are not enough words to describe how much I appreciate her expertise, excellent customer service, and the incredible work that she produces. She is brilliant at what she does. I have worked with Kimberly on more than ten projects and each time I am more and more impressed and cannot possibly recommend her highly enough. In addition to her professionalism, expertise, and eye for detail, Kimberly is just a really terrific person to work with. She patiently works with me on all ideas that I have, and solves any and all changes that I need made. Consistently giving me options to choose from, I always have a hard time making a decision because all of her work is outstanding. Her innovation, creativity and commitment to excellence set her apart. She is prompt, affordable, and reliable making her a publishers dream come true! I feel so fortunate to have found Kimberly and her services, and honestly don't know what I would do without her!
Melissa Eshleman
Kimberly is a consumate professional. She understands the self-publishing space as well as anyone, and better than most. If you have written a novel, biography, children's book, or authored a non-fiction piece that needs to be turned into an e-Book, paperback, or hardcover book, Kimberly and her team will help you get there. Jera Publishing will even provide editorial services for you.
Richard Bognar
The world of publishing has changed so much in recent years that I, as a retired person, clearly needed some help. Thank you for being there when I needed you. I feel very good about the end result.
Morgan Worthy
When I came to Jera Publishing, I was frustrated with trying to format the interior design of my book on my own. I kept hearing people say it was easy to do, but I wasted more time and therefore, money, just trying to figure it out. Kim and her team were amazing to work with from start to finish. I felt relieved when I put everything in their hands and am so proud of the final product! I'm already working on my second book and wouldn't think of working with anyone else!
Patrice C. Washington
I have hired Kimberly Martin's company, Jera Publishing twice and both times I was very pleased. I hired this company to format my debut novel, Remembering the Sweet Nectar in 2012 and also, a poetry anthology entitled, Poetic Gumbo in 2013. Kim and her team are efficient, reliable, personable and will get the job done to your satisfaction with ease. Their rates are affordable and fair. I WILL NOT go anywhere else to have my books formatted unless this business shuts down, which I hope never happens. Thanks guys.
Susanna K. Green
Kimberly did an outstanding job in formatting my book, and in creating the cover design. Her work was exceptional, and her ideas were excellent. Kimberly was timely, efficient, accurate, and extremely professional in her work. I highly recommend Kimberly for her quality work.
Ted H. Hull
Kimberly is a consummate professional. Her turn around was fast and any of my book concerns were answered and attended to expeditiously. She was respectful and really willing to give, which in my profession is a sign of enduring commitment to her work. Bravo Kimberly! I'll be back with my next work soon enough for you to complete. Thank you!
Cheryl Driskell
My Highest Recommendation for Kimberly Martin: It was indeed my lucky day when I discovered Kimberly on the web and she agreed to format my book. She is accessible and always answers the phone herself. When she commits to complete something by a specific time, it's always ready. Although I would not recognize her if she walked into my office, I'd love to see her and give her a big hug, as she made a very arduous task delightful. I have run a California mental health department with 125 employees and was a professor at the University of Nevada School of Medicine and Kimberly falls into that top ten percent that are not only extremely proficient at their jobs, but are also a delight to work with.
Stephen H. Frye, M.D.
Kimberly with Self-Pub.net is phenomenal. Her attention to detail and her quick response in getting you manuscript formatted is just unbelievable.
Candace House