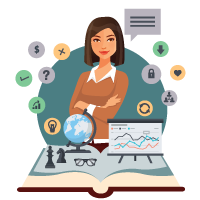 Advanced Nonfiction Book Design
Our Advanced Nonfiction Book Design service is for a nonfiction book that has elements that take more time to format, such as pull quotes, sidebars, text boxes, complex tables, two-column layouts, a large number or graphics or images, fill-in-forms, or other items that will require a complex layout.
Our Advanced Book Design option
Complex Layout
Does your book have a lot going on? Our Advanced Book Design service for nonfiction books may be just the thing you need. Our designer will work with you to create a unique layout that is sure to impress. If you envision your book looking similiar to the samples shown here, or know you want some of these more complex layout elements in your book, then this level of service for you.
Cost: $895 / add eBook for $295
50% deposit to get started: $447.50
Additional costs may apply if your book has more than the allotted number of included elements. See the "View more details" information above.
Need More Than an Interior Design?
Our self-publishing package comes with a custom interior, cover, eBook conversion, and submission assistance.
Upgrade your package with consulting, book marketing coaching, and a book marketing kit.
Create Your Self-Publishing Package
Have a question?
Contact us using the form below or give us a call at 770-642-6400. We will reply to your message shortly.