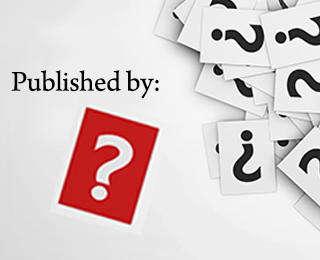 Many self-publishing authors form a business (publishing company) with its own name and publish their book under the publishing company's name instead of their own. Here are five reasons that you may want to do this, and two reasons you may not want to:
You do not want readers to know that you are self-published. Creating a publishing company with its own name and listing them as the publisher of the book makes it appear that your book was picked up by a publisher, and not self-published.
You are publishing multiple books and want to create a "brand" and the publishing company is part of that branding. This is a perfectly valid reason to create a publishing company name and more often this is the reason I hear from authors as to why they want to use a publishing company name.
You are publishing a book that is part of a larger business. For example, let's say you are a business coach and you have an existing business named ABC Business Coaching. If you decide to do a business coaching book that is part of that business, you can use ABC Business Coaching as the publishing company name instead of your own.
You are using a pen name. If you are using a pen name, you may not want to use your real name as the publisher to help keep your identity hidden. You can't use the pen name as the publisher since that is not your legal name. You would need to go through the same steps as someone forming a Doing Business As to use a name that is not your legal name as the publisher.
You want the extra protection of a Limited Liability Company (LLC). If you publish under your own name and someone sues you for something related you your book, they can come after your personal assets. If you publish under an LLC (and do it correctly), they can only come after the LLC's assets, not your personal ones. Keep in mind that it is the extra step of creating the LLC, and not just using a publishing company name under a DBA that grants this protection. Many authors that are doing nonfiction books choose to do form an LLC. There are other forms of business that will also grant this protection, but the LLC is the easiest of them to form.
There are only two reasons (in my opinion) why an author might decide not to create a publishing company to publish their book under. And they are big reasons!
Paperwork
Money
To use a business name to publish under you must file a Doing Business As (DBA)* or form a Limited Liability Company (LLC). While there are other types of business structures, those are the two most common types for authors. Each of these means filling out forms and paying fees to your local government. A DBA is typically done at the county level and an LLC at the state level. The costs involve vary depending on where you live but can run into the hundreds of dollars. A DBA is not too difficult to set up, while an LLC is more complex and you might need to get someone to help you do it correctly, which will cost even more.
And these are not one-time costs. An LLC will need to pay an annual fee, while a DBA often stays in effect for numerous years, but does expire after some time (depending on where you registered).
So, is it necessary to create your own publishing company just to hide the fact that you self-published? Does anyone really care? No, not anymore. Self-publishing had a stigma in the past and authors were better off hiding that they self-published, but not so much now. Many authors are now embracing the fact that they are independent and self-published and proudly proclaim it to the world.
If you don't want the hassle or are on a budget, you absolutely do not need to form a business to create that publishing company. Instead, just publish under your own legal name. That means that when you buy your ISBNs (if you are), you would put your own name down instead of a publishing company name. On the copyright page in your book, you do not need to put any "Published by" statement there at all. Just leave that off. There is no requirement for a publisher's name to be included.
What is right for you? Well, that is for you to decide. There really isn't a wrong or right answer here; think about your goals as an author and your budget, then make a choice. You should have this settled before you purchase any ISBNs or set up your accounts at IngramSpark, CreateSpace, or Amazon's KDP platform, however. If you create a publishing company, you should be buying the ISBNs and setting up the accounts under its name.
* Some areas call a Doing Business As (DBA) a Trade Name or a Fictitious Name.
Do you want to learn more about how to create your own publishing company? Read my other post: Self-Publishing Short: Creating Your Own Publishing Company.
This post is part of the Author Toolbox Blog Hop.  A monthly hop for authors who want to learn more about being authors.