Depending on the level of editing your manuscript has undergone, your editor will often leave comments for you on the right-hand side of your manuscript using Word's Comment feature. You may also find it useful to leave comments for your editor prior to submitting your manuscript if you have a specific question you want them to address. To do so, you'll need to familiarize yourself with how to add and delete comments in Word.
Let's start by going to the Review tab in the ribbon. In the Comments section, you should see buttons for New Comment, Delete, Previous, and Next. If you want to add a comment, click on the word or highlight the words that your comment is in reference to, and then click on New Comment. This will create a box on the right-side of the document with your name, initials, or whatever you have the "owner" of your software registered as. Start typing in the box to leave a comment.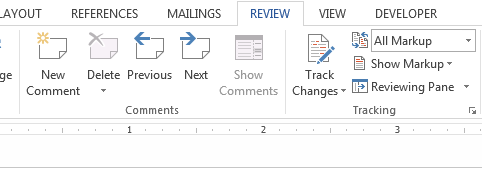 If you're going through a document with comments from your editor, you can use the Previous and Next buttons to go through them, clicking Delete when needed. There is the Delete All option as well found by clicking on the arrow under the Delete button. You can also reply to a comment already in the document by clicking on the reply button (←) within the comment box.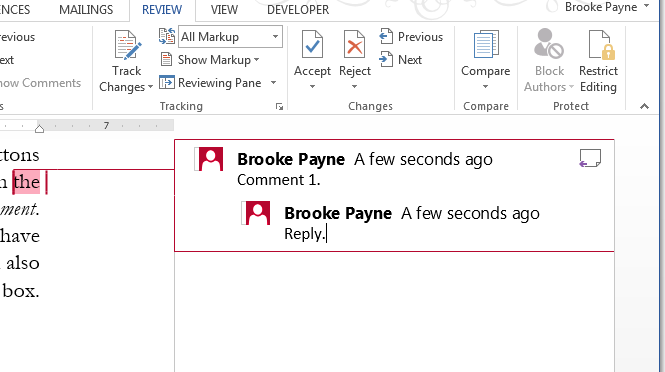 And there you have it! For more tips on how to use Word, browse our blog and subscribe to our newsletter!

I have always had a passion for books. It was, therefore, no surprise when I decided to obtain a B.A. in English from Kennesaw State University. I have experience as a freelance writer, a proofreader, and an editor. It's a three-way tie between which I am more passionate about: writing, reading, or editing. I've recently finished my first novel, and I try to read at least one book a week, but I love editing and helping someone's dream become a reality. Since my heart lies with all three, you can rest assured that I put a piece of it into every work that comes across my desk.

Latest posts by Brooke Payne (see all)