Selecting the category for your book when uploading your book to IngramSpark, CreateSpace, or Amazon's Kindle Direct Publishing (KDP) is an important step that is not given enough thought or research by many self-publishing authors. Unfortunately, it is often not thought of at all until the title is being submitted and the question of what category to list the book under is asked. A rush decision is then made on the spot and that is that.
The category you select is important for mainly two reasons:
It determines what category your book is listed under on Amazon and helps potential readers find your book
The category you select will impact your ability to reach the Best Seller and Hot New Releases lists in that category on Amazon
Every category on Amazon has its own Best Seller and Hot New Release list. Your best sellers rank (previously referred to as sales rank) on Amazon determines your ranking on those lists in your category.
To find a book's best sellers rank, look under the Product details section for the book.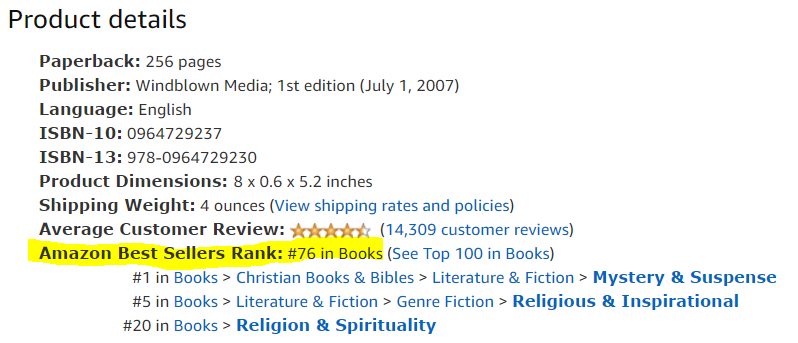 In the example above (for The Shack), the best sellers rank is 76.  That means that at the time I took that screenshot, there were 75 other books on Amazon that were selling better than this book. You can also see that it is ranked differently for the Best Seller lists for different categories. In the main Religion & Spiritual category, there are nineteen other books that are currently selling more than this book. In the sub-category, Literature & Fiction > Genre Fiction > Religious & Inspirational, there are only four other books doing better.
The lower the best sellers rank number, the greater the number of books are being sold compared to other books. Your goal is to find an appropriate category where the books on the Best Seller lists have best sellers ranks with high numbers, which means you won't need to sell as many books to make it on the Best Seller lists for that category.
What to do:
First, find the categories on Amazon that are suitable for your book
Next, look at the books on the Best Seller list and Hot New Releases rankings in each of those categories
Make a note of the best sellers rank of the book in the

 

first and tenth spot on each those lists
Use available tools (see below) to find out approximately how many book sales you will need in each of those categories to make at least the top 10 spot on those lists
Choose the category where you need to make the least amount of sales to make it into the top ten on its Best Seller list
To find out approximately how many books are being sold for a particular best sellers rank there are a couple of third-party tools that you can use. One is https://kindlepreneur.com/amazon-kdp-sales-rank-calculator/ and another is https://www.tckpublishing.com/amazon-book-sales-calculator/. To use, go to one of these links, enter the best sellers rank number you want to check, and submit. It will return the approximate number of book sales a book with that rank is selling. For example, a best sellers rank of 95,000 at the time of this writing is generating about one book sale a day on Amazon.
If you have three categories you are considering and one will need three books sold a day to reach the Best Seller list, another ten books a day, and the last thirty books a day, choose the category that only needs three book sales!
Other tips:
Drill down and choose sub-categories, not main level categories. Your book will not only be listed in the sub-category, but also in their parent categories.
Once your book has been published for some time and the sales are starting to drop, change your category to reach a new audience. This should also be done if you run eBook promotions regularly.  Try switching the categories before running a new eBook promotion to find a new audience.
Some niche categories that you can find on Amazon are not available to be chosen when submitting your book. If you want your book listed in one of those categories, submit to one of your runner-up categories when uploading your title, then, after your book is listed, contact Amazon and suggest the other category for your book. If they agree, your book will also be listed in that niche category.
Need more guidance? Jera Publishing can help you decide what category is best for your book. View our consulting services.
* This post is part of the Author Toolbox Blog Hop.

Self-publishing specialist with over 15 years of experience, speaker, and coach. In my spare time, I can be found reading, hiking, taking photographs, riding my motorcycle, spoiling my three rescue cats, and decorating the Jera office with my collection of vintage typewriters.

Latest posts by Kimberly Martin (see all)